Thank you for visiting the Westwood Presbyterian Church website. Please join us during our services, where you will find a warm and friendly atmosphere and can feel the presence of God.
Worship Services – 9:00 a.m.
The 9:00 worship service in the Sanctuary is social distanced and everyone needs to wear a mask. The service is also streaming on Facebook Live and YouTube. The readings, prayers and responses read in unison by the congregation are printed in the worship bulletin along with projection at the front of the sanctuary.

Communion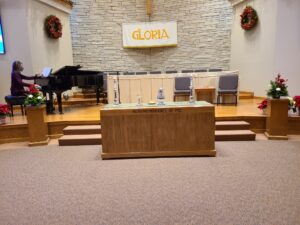 We celebrate the Sacrament of Communion-the Lord's Supper-in worship on the 1st Sunday of each month. In the Sacrament of Communion, we remember Christ's death until He comes again. (1 Corinthians 11:26)
Communion is open to all who believe in Jesus Christ as Lord and Savior, regardless of denominational affiliation or background. According to Scripture, we believe that the elements of Communion are symbolic; the bread represents Jesus' body, broken for the sins of the world; the cup represents God's new covenant with His people in Jesus' blood, shed for the sins of the world. (Matthew 26:26-30, Mark 14:22-25, 1 Corinthians 11:23-25)
The Sacrament of Communion is a joyful feast in which we embrace the hope of eternal life through the grace of our Lord Jesus Christ, which God offers freely to all who believe.
Westwood Nursery
Westwood Nursery is open for children ages Newborn to Preschool during 9:00am Worship Service.
There are 2 attendants caring and teaching children about Jesus' with songs and stories.
"Jesus said, 'Let the little children come to me, and do not hinder them,
for the kingdom of heaven belongs to such as these.'"

Sunday Morning Classes – 10:00 a.m.
G
od's Garden is Sunday School for children kindergarten to 5th grade.
Children are invited to attend Children's Church in the Sanctuary
during the
9:00 Worship Service.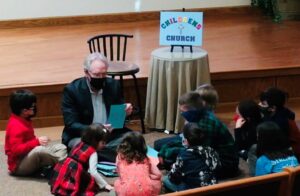 Middle and High School students
Gather in Classrooms B and C for in-depth and fun Sunday Bible study at 10:00.
Learn More
…
Adult Bible Study
Some classes are currently postponed due to COVID-19.
Learn More
…
Jesus Connection on Wednesdays
Starting Wednesday February 24th, 2021, beginning at 6:30 pm via Zoom, we will be spending 8 weeks with Andy Stanley's study and video "Follow". The study is about Jesus' invitation to join Him….to Follow Him.
"Jesus doesn't expect people to be perfect. He just wants them to follow Him. Being a sinner doesn't disqualify anyone. Being an unbeliever doesn't disqualify anyone. In fact, following Him almost always begins with a sinner or unbeliever taking one small step."
If you would like to join us, please contact or email Bob Gallop at 650-2314 – rbgallop@cox.net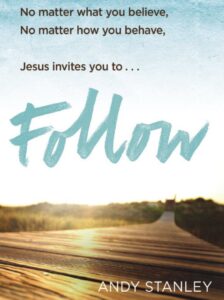 Intergenerational Sunday School Study
Starting Sunday April 18th, 2021, Sandy Wylie will host a Bible Study Class in the Atrium beginning at 10:15.
The study is "Following Jesus". It is an 8 week class exploring what it means to follow Jesus after making the decision to trust Him as Savior and Lord. This exciting journey of spiritual growth and maturity, with the help of the Holy Spirit who gives the energy and desire to continue on, even when the journey leads us to hard places.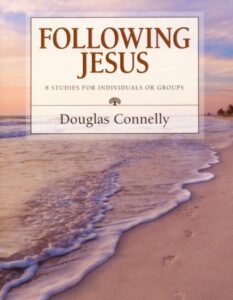 Fellowship Time-

Postponed for now due to COVID-19
Join us for Fellowship Time in the Atrium. Pick up a cookie, and juice or coffee, and take the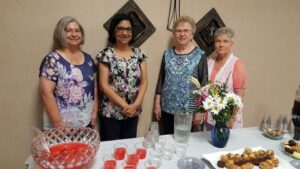 time to look around, visit with others, browse the items at the Information Desk, or just sit and relax in one of the casual seating areas.
Information Desk
The Information Desk is located in the Atrium, just outside the main doors of the Sanctuary. If you need directions to a room, would like more information about Westwood, or simply have a question, the ushers are happy to help you.