Westwood Presbyterian Women
WPW meets monthly to bring all women in the church together for fellowship. At our meetings, we set goals for mission projects, church improvements, women's activities and fund raisers.
Our outreach missions include donations and funding for schools, abused women, homeless and others in our local community as well as worldwide. Our "FUN" projects include dinners, gift basket auctions and crafts. We are currently making fleece blankets for victims of domestic violence and sexual abuse as well as Starkey residents.
Contact: Beverly Clark
Naomi Circle – Postponed for now due to COVID-19
The Naomi Circle meets at church or in homes or sometimes we tour different places of interest. We participate in a variety of service projects and have an ongoing Bible study, "Women of the Old Testament". For anyone interested in an afternoon circle, we always welcome new members.
We meet on the 3rd Tuesday of each month.
Contact: Barbara Caldwell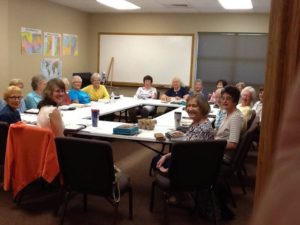 Tuesday Bible Study
Ladies gather to study a different book of the Bible every year using a Bible Study Guide. This Session we are studying the Book of Ruth. Everyone is encouraged to do the lesson beforehand and participate in the group discussion but everyone is welcomed to just come and listen.
We meet 9:00 – 10:00 am every Tuesday in the Atrium.
Contact: Grace Sadiq
Nelson Bible Study – Postponed for now due to COVID-19
We are 8-10 women studying 1 Peter, using a study guide books and working through one chapter each week.
We meet the 1st and 3rd Wednesday of each month from September through May.