WELCOME TO WESTWOOD
Thank you for visiting the Westwood Presbyterian Church website. Please join us during our services, where you will find a warm and friendly atmosphere and can feel the presence of God.
Sunday Worship Services
The 9:00am Praise worship service is in the Sanctuary. Readings, Prayers and Hymns are printed in the worship bulletin along with projection at the front of the Sanctuary.
(In accordance with CDC guidance, wearing of masks is optional.)
The 10:30am Traditional worship service is in the Sanctuary. Also streaming live on Facebook and YouTube. The readings, prayers and responses read in unison by the congregation are printed in the worship bulletin along with projection at the front of the sanctuary. (In accordance with CDC guidance, wearing of masks is optional.)

Communion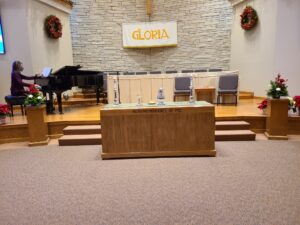 We celebrate the Sacrament of Communion-the Lord's Supper-in worship on the 1st Sunday of each month. In the Sacrament of Communion, we remember Christ's death until He comes again. (1 Corinthians 11:26)
Communion is open to all who believe in Jesus Christ as Lord and Savior, regardless of denominational affiliation or background. According to Scripture, we believe that the elements of Communion are symbolic; the bread represents Jesus' body, broken for the sins of the world; the cup represents God's new covenant with His people in Jesus' blood, shed for the sins of the world. (Matt 26:26-30, Mark 14:22-25, 1 Corinthians 11:23-25)
The Sacrament of Communion is a joyful feast in which we embrace the hope of eternal life through the grace of our Lord Jesus Christ, which God offers freely to all who believe.
Up coming Events
Parents and Adult Sponsors
Corn maze/Pumpkin Patch at Klausmeyer Farms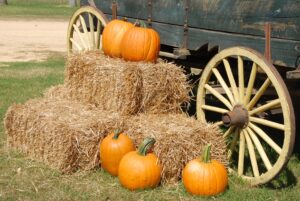 Thursday October 28th at 11:30am
The program will be Bob Martin with Martin Law Firm speaking on Estate Planning.
The meal will be pizza, toss salad and ice cream bars. Cost: $7 per person payable at the door.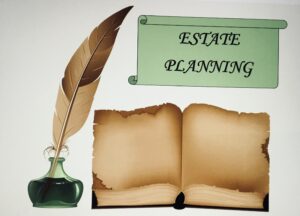 The "Kirkin 'o' Tartan" is a celebration that invites all Christians, whether of Scottish heritage or not, to present their Faith and heritage for dedication, rededication and God's Blessing.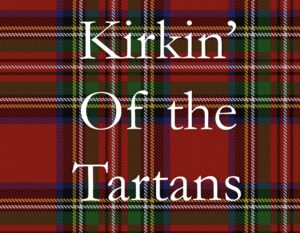 Westwood Nursery
Westwood Nursery is open for children ages Newborn to Preschool during both Worship Services.
There are 2 attendants caring and teaching children about Jesus' with songs and stories.
"Jesus said, 'Let the little children come to me, and do not hinder them,
for the kingdom of heaven belongs to such as these.'"

Sunday Morning Classes
G
od's Garden is Sunday School at 9:00am for children kindergarten to 5th grade.
Children are invited to attend Children's Church in the Sanctuary
during the 10:00am
Worship Service.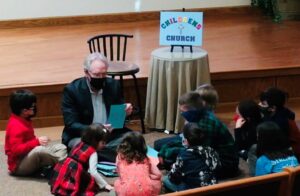 Middle and High School students Gather in Classrooms B and C for in-depth and fun Sunday Bible study.
Middle School 9:00am to 10:00am
High School 10:00am to 11:00am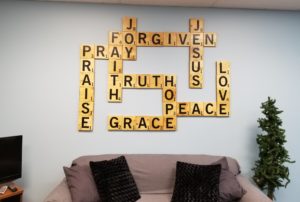 Sunday School with
Sharon Chester
Starting Sunday May 23rd, 2021, Sharon Chester will begin a Bible Study in Class Room A beginning at 9:00am.
The study is the book of Hebrews.
The early Jewish believers had come from a background of legalism and works. When God came to earth in human flesh as the New Covenant, these believers discovered the freedom they could have in Jesus and the relationship they could enjoy with Him. Yet in the midst of persecution and rejection, they were often tempted to hold on the former symbols, rituals, and traditions grounded in the requirements of the Old Covenant.
Hebrews 4:16 Let us then approach God's throne of grace with confidence, so that we may receive mercy and find grace to help us in our time of need.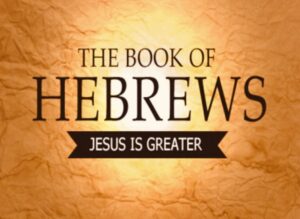 Sunday School with Sandy Wylie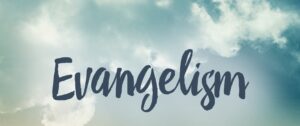 Beginning Sunday October 3rd at 9:00am
Guest speaker David Doering will present a wonderful study on Evangelism. If you ever felt the Spirit tugging at your heart to Evangelize but were unsure where to start, this is your opportunity.
We are therefore Christ's ambassadors, as though God were making his appeal through us. We implore you on Christ's behalf: be reconciled to God
Fellowship Time
Join us for Fellowship Time in the Atrium at 10:00am Sunday. Pick up a cookie, and juice or coffee, and take the time to look around, visit with others, browse the items at the Information Desk, or just sit and relax in one of the casual seating areas.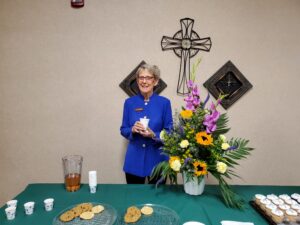 Information Desk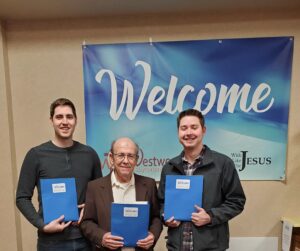 The Information Desk is located in the Atrium, just outside the main doors of the Sanctuary. If you need directions to a room, would like more information about Westwood, or simply have a question, the ushers are happy to help you.